Mouna SEPEHRI
Mouna Sepehri is co-founder and co-CEO of Orson.
A graduate in law and member of the Paris Bar, Mouna Sepehri began her career in 1990 as a lawyer in Paris and then in New York, where she specialized in Mergers & Acquisitions and International Business Law. She joined Renault in 1996 as Deputy General Counsel of the group. As part of the group's international growth, she took part in the formation of the Renault-Nissan Alliance from the beginning (1999), as a member of the negotiating team.
In 2007, she joined the Executive Vice President's Office and oversaw managing cross-functional teams.
In 2009, she became Executive Vice President of the Renault-Nissan Alliance and Secretary of the Renault-Nissan Alliance Board. She also became a member of the steering committee for the Alliance's cooperation with Daimler in 2010. In this capacity, she oversees the implementation of Alliance synergies, the coordination of strategic cooperations and the management of new projects.
In 2011, she joined the Renault Group Executive Committee as Executive Vice President. She oversees the following functions: the Legal Department, the Public Affairs Department, the Communications Department, the Corporate Social Responsibility Department, the Real Estate & General Services Department, the Group Prevention and Protection Department, the Transversal Teams Department, the Economic Efficiency of Operating Expenses Program and the Strategy Department.
Mouna began her career in 1990 as a lawyer in Paris and then in New York. She has served on the board of directors of numerous listed companies, including Nexans, Danone, Orange and the M6 Group. Mouna is the mother of two children and is a Chevalier de la Légion d'honneur.
MANDATES
2012 to date : Director and member of the M6 Group Audit Committee
2017 to date : Director of Groupe Challenges
2012-2018 : Director and member of the Danone Audit Committee
2014-2019 : Director, Chair of the Governance and CSR Committee of Orange
OPINIONS
La polarisation de la société appelle un nouvel art de diriger, Les Échos, 15 mars 2023
La crise est le creuset du leadership et de l'entreprenariat, L'Opinion, 16 septembre 2020
Communication 3.0 augmentée à l'IA , Servir 2023/1 (N° 519)
PUBLICATIONS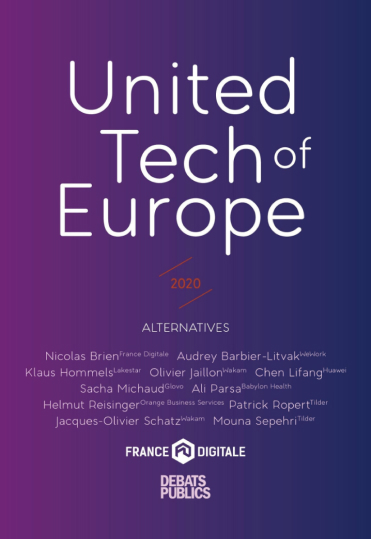 United Tech of Europe 2020
Débats Publics
Septembre 2020